One of my fondest memories were those times I would take a rowboat off the coast of Australia and listen to the haunting song of the sea snake… although, come to think of it, I might just have had a radio on in the boat. That would explain the DJ chatter…
Sea snakes are a subfamily of venomous elapid serpents; so, if you see an elapid serpent that isn't venomous, move along, buddy, because that is not a sea snake; in fact, it is more likely a fan belt or conger eel. The sea snake is one of the few air-breathing animals that spends most of its life in the water. There are some animals that spend a lot of time in the ocean due to confusion or depression… but, on the whole, just whales and sea snakes do it on purpose. Think about how depressing that must be, coming up for air every few hours while seeing other animals all around you who don't have to. This is probably why sea snakes are prone to nihilism…
Sea snakes are of the family Elapidae and the subfamily Hydrophiinae, and, if they had it to do all over again, they'd probably do the same thing. They inhabit the warm waters of the Pacific and Indian Oceans, anywhere a skin diver tries to impress his girlfriend by showing her how docile sea snakes are. They range as far south as the northern coast of New Zealand, but they only stay until the smell of sheep drives them off.
Sea snakes can be up to nine feet long, but most are between four and five feet because who wants to maintain four feet of body that you're never going to use? Most sea snakes has dorsal nostrils so when they sneeze, their hats fly off. What makes a sea snake's appearance so different from other serpents is its tail, which has the appearance of a paddle if it were small paddle that was snake-colored and covered in scales. This tail propels the sea snake through the water quickly and helps it avoid a lot of trouble…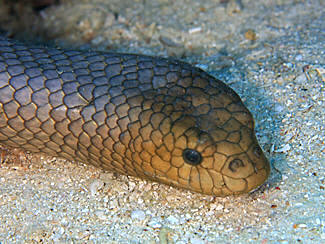 Sea snakes have tiny eyes, making it difficult for them to find work in the anime genre. Their fangs are so tiny, you'll hardly notice them. The lungs of a sea snake extend almost the entire length of its body. If it takes a really really deep breath, it is often mistaken for a manatee. A lack of ventral scales makes most sea snakes nearly helpless on land and a popular target for bullies.
[Note that Sea Kraits, of the genus laticaluda, have retained the ventral scales and don't have noses on their heads. They are considered to be sea snakes, just not very good at it…]
A snake uses its tongue to detect the scent of food and water. Because a sea snake lives in the ocean, half its job is already taken care of. Its tongue does not flick but barely protrudes. Scientists think the reason for this is the snakes don't want a shark to think that they are taunting it. The sea snake also expels excess salt with its tongue.
Sea snakes are reluctant to bite anyone they aren't going to eat. A great many idiots have proven more than capable of overcoming this reluctance, but, as a rule, they are pretty easy to get along with. Their preferred of hunting is to wait in a clump of stuff until a fish gets close, then biting it, holding on until it is no longer an effective member of society and then eating it, head first. Sea snakes also eat eels and fish eggs.
Notable sea snakes include:
The Horned Sea Snake (hydrophis peronii): I start with the creepiest sea snake… the one with horns on its head. When king cobras have nightmares, this is the snake they are dreaming of. They range from Australia to Taiwan. They are four feet long and cream-colored making them the only four-foot cream-colored creature that I would want to avoid.
The Yellow-bellied Sea Snake (hydrophis platurus): THIS is the sea snake that most people think of when they think of sea snakes. It is the only sea snake that can be found in eastern Pacific waters, except for the sea snakes that might've been taken there in a box or something. They can absorb a third of the oxygen they need through their skin, so what chance to any of us have? These snakes tend to dehydrate in the salt water and so rely on the layer of fresh-water that forms on the surface of the ocean from rain fall. Hydrophis platurus is brown with a yellow belly. They can grow to three feet in length. They are ovoviviparous to a fault…
The Turtle-headed Sea Snake (Emydocephalus annulatus ): Remember when I implied that sea snakes were all venomous? Well… they're not. I was forced at gunpoint to write that and forced at knife point to write this. The Turtle-headed Sea Snake is a lot like Paul Newman in Cool Hand Luke: It eats a lot of eggs; in fact, fish eggs are ALL it eats. For my younger readers, Paul Newman is like Chris Pratt only with more salad dressing. These freaks of nature are found off of the coast of Australia because, of course they are…
Chinese Sea Snake (Laticauda semifasciata ): Found off of the coasts of east Asian nations, this is a sea krait. And, sea kraits are HOPELESS when it comes to being sea snakes. They have to come on land to mate, lay eggs, digest their food and just to get a few minutes relief from all the skin divers infesting the reefs. The Chinese sea snake gets it from land and sea as a result: Their predators include civet cats, sea birds, sharks and the Japanese, who find their flavor to be a tasty combination of miso and tuna fish. Essentially, Laticuada semifasciata are the prison bitches of the snake world…
There are sixty species of sea snake in all… each with its own unique mix of docility and deadly venom. As an animal that spends its entire life holding its breath, it is a sad thing, even for a reptile. But, like the classic bullied victim, maybe one day the sea snakes will stand up for themselves… maybe the next time they are handled roughly by a diver, to show how they won't bite even if they are handled roughly, they might consider taking a chomp.
Maybe take a second chomp for me, eh?