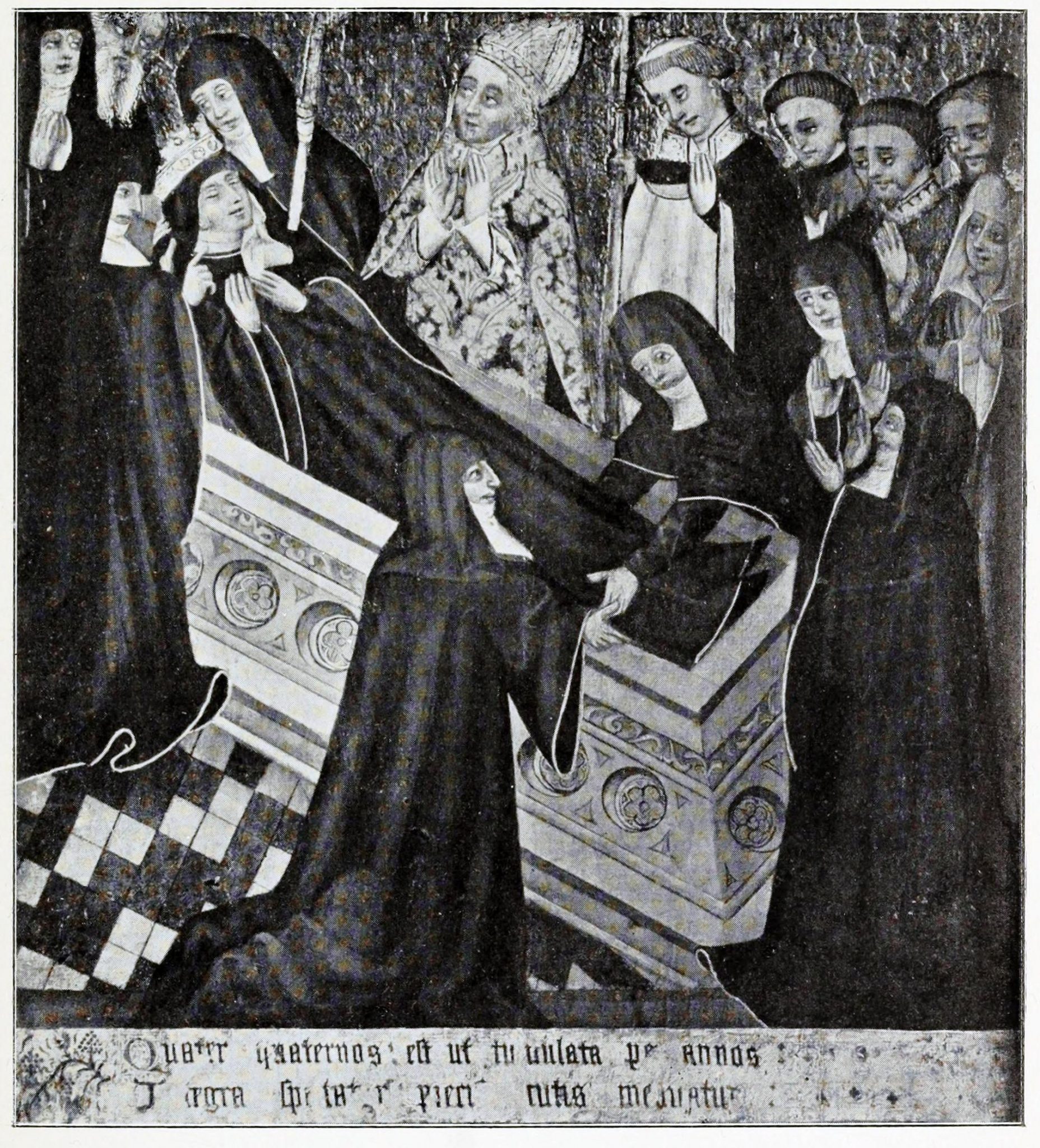 Anna was king of East Anglia from 636 to 654 and utterly fascinating; consequently, I am writing about his daughters.  These daughters were born of a woman whose identity historians can only guess at.  Some say that her name was "Saewara"; although, as all-time great guesses go, it is definitely in the bottom twenty-five percent.  Each of Anna's four daughters was canonized as a saint, a feat unmatched by anyone that I've ever met.
Sexburga of Ely was the eldest of the four daughters and was therefore given the most hilarious name.  Historians have narrowed Sexburga's birth year to between 635 and the age of dinosaurs.  She married Earconbert, the king of Kent, sometime between Sexburga's birth and the year 660.  They had four children together:  Two boys who became kings in their own right; and, two girls, who were canonized as saints. 
By now, you're asking yourself, "What's with all the saints in Britain in the Middle Ages?".  In truth, there were a bunch of  'em; so many, in fact, that they could easily have organized a touch football game, including two saints as referees (St. Hilda would've been my choice as referee).  Christianity was young in the British Isles, so there was much a devout person could accomplish; moreover, due to the violence of the times, there were lots of shots at martyrdom…
When Sexburga's husband died, she ruled Kent until her eldest son was old enough to proclaim edicts without soiling himself; then, she became a nun.  She built an abbey in Minster, stuck around for a while; then, joined her sister at her abbey.  Upon her sister's death, Sexburga was elected abbess.  With two abbeys under her belt, Sexburga could die happy in 699, having lived between sixty-four and ninety-million years…
Etheldreda was born to King Anna in 636.  When she was sixteen, she married Tondberct of the Gyrvians.  She managed to keep her vow of chastity through their entire marriage, which ended when Tondberct died in 655 of acute frustration.  Etheldreda moved to the Island of Ely afterwards, to get in touch with her inner prude.  Five years later, she was married to Ecgfrith, whose name can only be pronounced properly if one is choking on a bag of almonds. 
Ecgfrith initially was down with Etheldreda's vow of chastity; but, eventually decided that enough was enough and tried to take the woman by force.  Etheldreda managed to escape to Ely via a miracle that was both tidal and mundane.  Ecgfrith got the message and married someone a little more outgoing.
Etheldreda founded the monastery at Ely shortly after her escape and was abbess there until she died in 679.  Sexburga, as mentioned before, took control of the Abbey, which stood until the Danes knocked it down in the ninth century.
Ethelburga, the third sister, was born some time within the realm of recorded history.  She was sent to the nunnery of Faremoutiers for a good Middle Ages education.  This would include:  Scripture, Latin and what colors go best with running sores.  She liked the convent so much, she stayed on and became nunnified.  In the Middle Ages, there were three choices:  Frying pan, fire and nunnery.
Eventually, Ethelburga became the convent's abbess.  Her major work was a church honoring the apostles.  This church remained only partially finished by her death in 664.  She had asked to be buried in that church.  Because the church was only partially finished, she was only partially buried.  When she was exhumed, seven years later, her body was reported to be "uncorrupted".  I shudder to think what that might mean…
The youngest daughter, Withburga, decided to build a convent in East Dereham.  Her miracle was as follows:  She had only bread to feed the men building her convent; so, the Virgin Mary told her to milk a couple of deer and provided her with said deer.  The real miracle is that she got people to work for bread and deer milk.  A local maliciously decided to hunt down the two does and Jesus caused him to fall from his horse and die… teaching him a lesson he'd quickly forget.
Withburga died in 743, with lactating deer being her primary miracle.  When she was dug up fifty-five years later, her body was found undecayed and, by some accounts, delicious.  She was buried in the convent she had constructed.  A couple of centuries later, the corpse was stolen by some ruffians from Ely, who wanted to use the body as an attraction for pilgrims.  Where her body had lain, a spring came forth.  To this day, in the town of Dereham, you can still see the spring.  Of course, this would involve going to the town of Dereham, which no responsible person would recommend…
So went the lives of the four daughters of King Anna of East Anglia.  He also had a son, Jurmin, who lived a mundane life of court politics, intrigue and savage battles.  He died a non-deer milking, non-virgin in the Battle of Penda in 654, bloody sword still clutched in his hand…
He is known today as Saint Jurmin.  Historians have narrowed down his date of canonization to between 654 and yesterday…