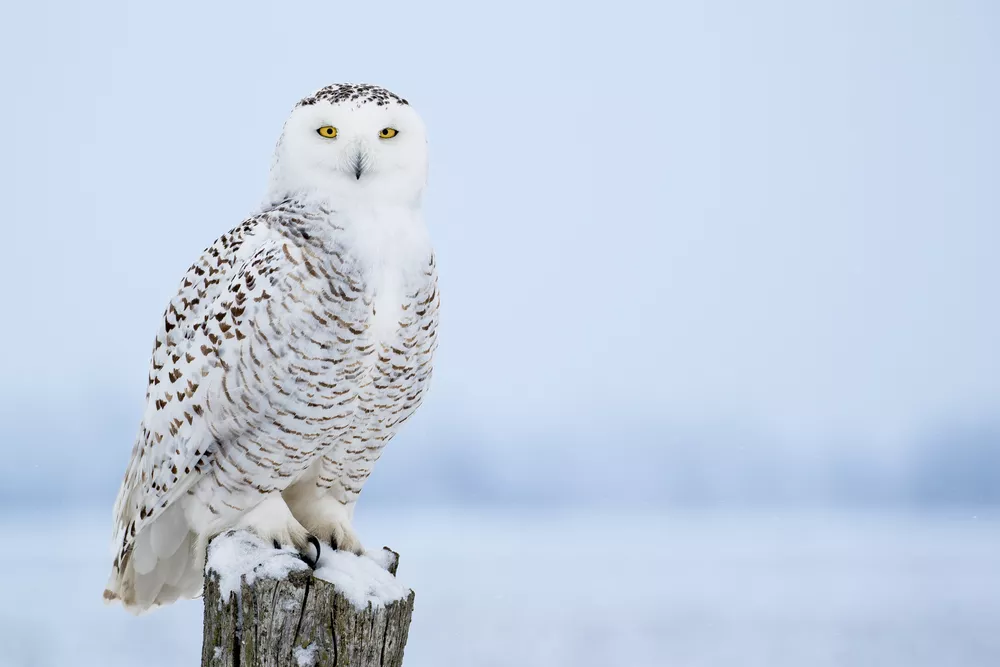 Imagine being in a frozen tundra, happily walking your lemming. It is a beautiful day: The sky is clear and the air is crisp. Suddenly, there is a flash of white out of the corner of your eye. You feel your lemming's leash pull taut and then go slack. Your lemming is gone, leaving just his tags and little sweater behind on the snowy ground. You, and your lemming, have been the victim of a snowy owl (Bubo scandiacus)—either that or the rapture had just happened and your lemming was simply more pious than you…
The snowy owl, also lovingly called the "white terror of the North", ranges throughout the tundra of Europe, Asia and North America. While they are at it, the raptor occasionally ranges throughout the tundra of Texas, Georgia and the Caribbean. It is possible that the snowy owl, in these cases, simply chased a lemming too far south and lost track of where it was. We've all done something like that when we've parked at the mall, I'm sure. Because of B. scandiacus' vast range, it goes by a number of names: "Comhachag shneachda" (Scotland), "Sneugle" (Denmark), "lumekakk (Estonia), "shiro fukuroo" (Japan) and "boid" (Brooklyn, NY)…
Did You Know? There is a country where it is legal to fight a snowy owl against a baboon; however, it is illegal to bet on the outcome. Did you guess "Mexico"? You're WAY off…
And, what a boid! It stands twenty inches high in flats. At between three and a half and six pounds, B. scandiacus weighs more than a three pound chuck roast; moreover, with its impressive four foot wing span, the snowy owl can fly much further than a three
pound chuck roast as well. Let's just say that, in terms of raw size and ability, the snowy owl has got a three pound chuck roast beaten by a mile…
The snowy owl has stereoscopic vision; although, it cannot move its eyes. To compensate for this, the owl has the ability to turn its head two hundred and seventy degrees. I would imagine that the first owl to have tried this out was a very brave one indeed. I watched a hippopotamus try the same thing once and his head fell off. Snowy owls can see equally well in the day and night. They are, however, quite far-sighted. How ironic that the "wise old owl" could not even see the text of a book…unless that book were being held quite far away, of course. But, who would turn the pages? Nobody, that's who!
Did You Know? The snowy owl is the only owl out of over two-hundred and twenty-five species that turns around when you shout, "Hey, Snowy owl!"
The hearing of the snowy owl is acute and spindly. Being a night hunter, the snowy owl uses a pair of acutely sensitive ears positioned differently on either side of the head to stereophonically pinpoint the location of its prey. This is a wonderful attribute; except, if the owl wears glasses they are always hang crooked…unless they have custom frames made. But, who has the money for that? The range of the hearing of the snowy owl is
about the same as a human beings'; consequently, they also feel that Mick Jagger's voice is shot…
B. scandiacus is both diurnal and nocturnal. This is unusual among owls, although I doubt that it is due to any malice. If the snowy owl were nocturnal, when those arctic twenty-four hour days rolled around, the bird would have no choice but to hunt during the day, starve or take up photosynthesis. And, it is not as if hunting is going to take a lot out of the bird. It simply perches and waits for something to stroll by. If it moves and isn't a polar bear, it is food.
Did You Know? If you take away the beak, talons and feathers of the snowy owl, he isn't so tough after all…
The "white terror of the North" quietly swoops down on its prey. Because of ruffles at the front of the wings of the snowy owl, the usual WHOOSH of the raptor is muffled to a whoosh. Even if the prey is under up to ten inches of snow, this owl can find it and pluck it out. B. scandiacus' favorite and most populous prey are lemmings…hence my opening paragraph. Adding a leash and a sweater changed the first paragraph from mere exposition into a parable. Are you impressed? Feel free to be so. The snowy owl can eat up to a dozen lemmings on its own every day—more if it has young to feed or out of town guests…
The snowy owl can also eat nothing for six weeks, or indefinitely if dying is not a problem for it…
If you liked this, try The Lugubrious Synchronicity of the Sponge Crab