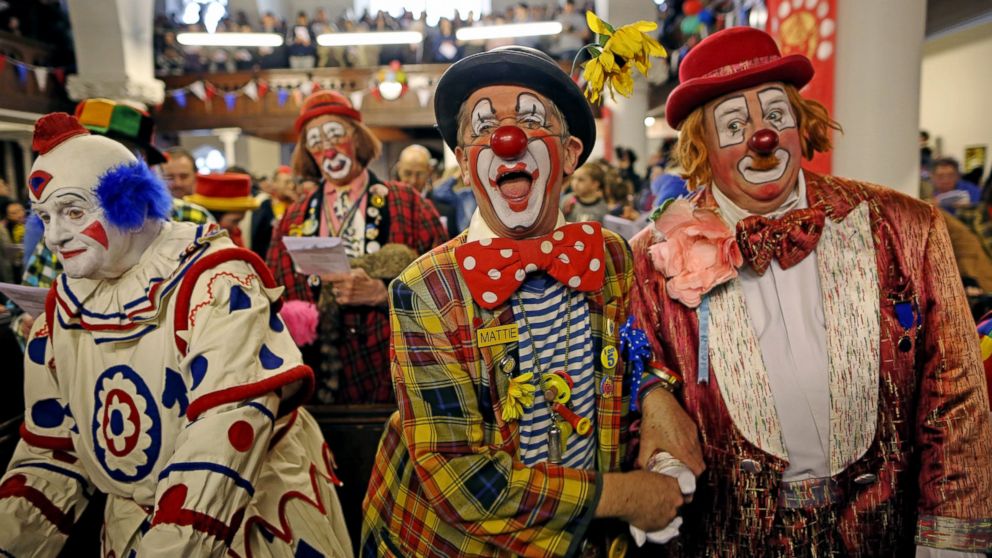 A clown performance is classified as "funny, just not very funny".
☺
Clown's register their particular makeup… probably so that police can identify them more easily when a group of hikers gets chopped up.
☺
Acrobatics and overstated mime are just two of the things about clowns that make them memorable as that circus act that was performing when you went for popcorn and soda…
☺
The word "clown" comes from Icelandic klunni meaning "clumsy person". One wonders why they had to go all the way to Iceland to find a word for clowns… they had to call them something in places that already HAD clowns. I can't imagine any of them saying, "We need a word for this guy acting like an idiot for our entertainment. I know! Let's get it from those people who eat rotten shark and live on an active volcano"
☺
Some people think that the scariest clown was Penny-wise from Stephen King's It; but, I disagree. I think the scariest clown is pretty much all of them.
☺
President Nixon signed into law National Clown Week. If you think about it, he probably did it to draw attention away from his earlier National Flesh-Eating Beetle Week which went about as well as you'd expect.
☺
Fear of clowns is called "Coulrophobia", from the Latin for "common sense"…
☺
The opera Pagliacci has a main character who is a clown. He isn't what most modern people think of as a clown because he only ever ends up stabbing two people to death.
☺
There is a Clown Code of Ethics, believe it or not; and, I checked: Nowhere in the document do they forbid chopping up hikers.
☺
Clowns may look dangerously insane; but, without their makeup, they look no different than any other sexually twisted psychopath.