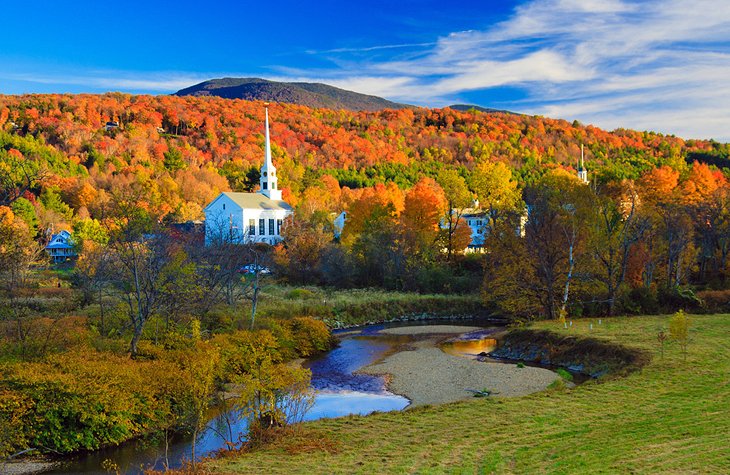 Polls show that Vermont is the least religious state in the union. The most religious state is Mississippi due to the huge number of its citizens who are praying for a way to get out of Mississippi.
♥
Vermont was the first state to give women "partial voting rights". Partial suffrage gave women the right to vote; however, those votes were not counted. It was win/win!
♥
Vermont also claims a Loch Ness-type monster in Lake Champlain, called "Champ". Residents of Vermont think the monster was attracted to Vermont due to the fact that lake monsters had partial voting rights.
♥
In 1777, Vermont became its own nation with its own currency. It was the only currency in North America made out of maple syrup.
♥
Vermont is the second largest producer of talc. This explains what some call Vermont's "baby fresh scent"…
♥
The capital of Vermont, Montpelier, has a population of less than ten thousand, making it the most sparsely populated capital in the United States. They try to pass bond initiatives to bring in more businesses but these bonds keep getting voted down by lake monsters.
♥
Vermont has one cow for every four people. What if your family only has three people? Then, YOU GET NOTHING!!!
♥
Moonlight in Vermont was considered for state song in Vermont but legislators determined that the song was too difficult for cows and lake monsters to sing.
♥
Alexander Lucius Twilight was the first African-American to obtain a bachelor's degree, at Middlebury College in Vermont in 1823. He served in the state legislature and as an educator, despite the fact that his Bachelor's Degree was in Syrup Studies.
♥
Vermont native Jody Williams received the Nobel Peace Prize in 1997 for her work in abolishing landmines. The Ottawa Treaty lays out conventions for the prohibition of the anti-personnel devices. The United Nations backed treaty was signed by every nation in the world… except the ones who still wanted to use landmines.