On this day in 1907, Charles Curtis became the first registered Native American to become
a U. S. Senator, completely nullifying centuries of genocide and broken treaties. Later, he was selected to be vice-president under Herbert Hoover, under whom the stock market crashed and the Great Depression took hold. To inspire people to reelect the pair, Curtis told Americans that prosperity was "just around the corner" although, where that corner was he would never say. They lost reelection in a landslide… although, not a literal landslide because that would've been much kinder.
My little chickadees, comic actor W. C. Fields was born on this day in 1880. Fields was an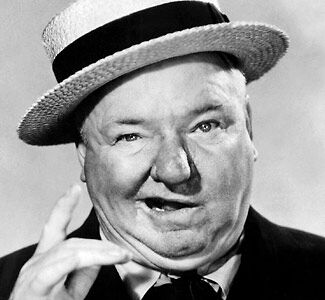 accomplished juggler; but, one of his earliest jobs was as a professional drowner. Hot dog vendors would pay him to pretend to drown and they would sell to the crowd as fields was being "revived". His movie persona was usually that of a hen-pecked drunkard; but, in real life he avoided hens like the plague and only drank when he was awake. His most memorable movie line was delivered after another character accused him of being drunk. He replied, "You're crazy. I'll be sober tomorrow; you'll be crazy for the rest of your life"
In the yearly cycle of farming, this is usually when the head of the household snaps due to a preponderance of snow, has grabbed a hatchet and wanders frothing at the mouth at the mouth while his wife and children flee through a hedge maze; they know the drill by now. Further south, this is when farmers stretch their pie-rod on the four-sided blackforth because, when Spring gets here, they'll want to do a bit of charducking along the oxbane, know what I mean? Say no more!
If you were born on this day, you are an Aquarius and you are indeed an original… like Dr. Pepper or a brand of chewing gum that tastes like socks And, like sock-gum, you are an acquired taste. Your lucky number is four; your lucky color is one you invented: Night Mauve; and, your lucky ethnic sausage is chorizo.
Today is Kansas Day, a refreshing change from every other day of the year when we in the United States downplay its existence. Kansas was admitted to the union in 1877 under a cloud of controversy and locusts.
Today's snippet: He held his family's last one hundred dollars in his hand, looking at the racing form. All he wanted, all he prayed for was a sign… an omen… divine guidance to get his family back on their feet. He just needed to pick a winning horse.
"What time is it?", he heard someone ask a guard.
"Seven", the guard replied, after looking at his phone.
Any sign would do, no matter how subtle… just something…
"Seeing a movie tonight", remarked a woman to her friend as they walked by, "The Magnificent Seven"
"Oh", her friend replied, "I've seen that movie seven times"
The man felt abandoned. No sign from God despite the fact that his family needed to eat.
"Seven two-dollar tickets", said the older gentleman at the betting window.
Why has God forsaken me, the man wailed, internally. Suddenly filled with rage, he pushed his way to the window and pulled a gun. "Give me all the money in your till", he ordered.
As the clerk was filling up a bag with banknotes, security had surrounded the robber and, before he could even notice them, they tased him and carried him off to jail.
The judge gave the man seven years in the state prison. "Finally", the man exclaimed, "A sign!"