Eastern State House, first insane asylum in what is now the United States, began taking patients on this date in 1773, solving the problem of what to do with all those crazy people that had been running around.   The institution, located in Williamsburg, Virginia, specialized in state of the art treatments of the day, such as blood-letting, torture, stomach-troll removal and life-long incarceration.
Bavarian Prince Ludwig married Therese of Saxe-Hildburghausen kicking off the first Oktoberfest in Munich, on this date in 1810.  Germans celebrate Oktoberfest by drinking heavily and eating lots of unhealthy foods, such as pigs knuckles, roast pig and pig smoothies topped with pork rinds.  How that differs from their normal diet, one can only imagine.  Ludwig ultimately became king, but was forced to abdicate due to the failure of the general public to put up with his jackass behavior.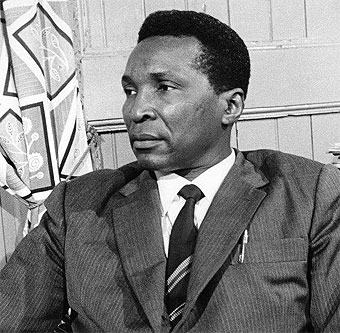 Equatorial Guinea gained its independence from Spain on October 12th, 1968, when Francisco Macías Nguema was elected president.  In an attempt to keep his countrymen from overdosing on the fruits of democracy, Nguema seized total control of Equatorial Guinea in 1971.  Under the dictator, Equatorial Guinea was run like a well-oiled machine from which parts are removed and taken out and shot.  His reign of terror ended in 1979, when he was deposed, tried and sentenced to death "101 times", although his attorney plea bargained it down to 73 times on appeal.
Actor Takeshi Kaga was born on this date in 1950.  Active in musical theatre, Kaga appeared in such stage productions as West Side Story and Jesus Christ Superstar.  Because of his great work on the Japanese stage, he will always be remembered as Chairman Kaga, the weirdo who yelled out the ingredient at the beginning of each episode of Iron Chef.
October 12th is "Freethought Day" in the United States.  If that fails to motivate you to do anything special, then you are observing the event properly.  The date coincides with the end of the Salem Witch Trails and Massachusetts governor William Phips letter to William and Mary, essentially condemning the trail.  It was a victory for secular thought; however, colonists then had to deal with a bunch of witches strutting around like they owned the place…
Art Clokey was born on this day in 1921.  Clokey is the creator of the Gumby and Pokey claymation characters. Gumby's wonderful surreal adventures were loved by adults and children.  He went on to make the claymation series Davey and Goliath, which was geared to those who were both devout Christian and strung out on hallucinogens.
On this date, in 1901, Theodore Roosevelt changed the name of the president's mansion from "Executive Mansion" to "The White House".  Historians speculate that he changed the name of the president's residence to distinguish it from the Executive Mansion Bar and Grill and the Executive Mansion Discount Drugstore because he was tired of getting their mail by mistake…