Part One here.  Beginning of Chapter One is here.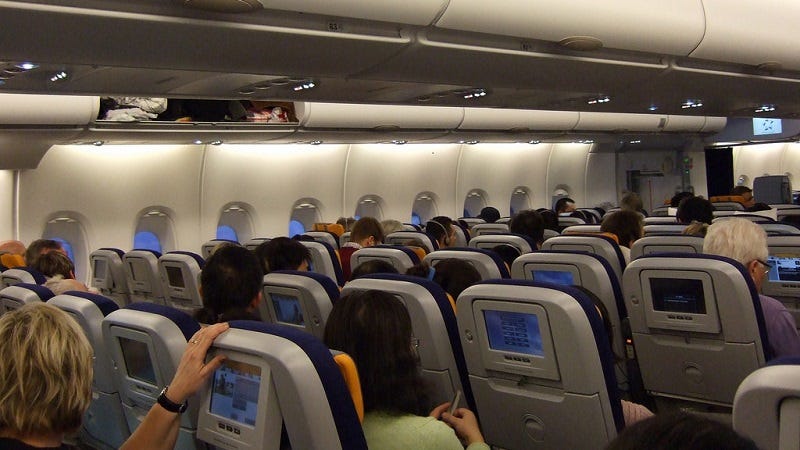 Resnick Tucker Resnick sipped his cognac and looked out of the window at the ocean, thirty thousand feet below. America, land of the sleaze, he thought. Of course Amsterdam made the United States seem like a Baptist church in comparison; and, parts of Istanbul made Amsterdam seem like a Baptist church…so, by chain argument, Istanbul made the United States seem like a convent. Bangkok made Istanbul seem like a church, which bumped Amsterdam to convent and America to the rank of super-convent. Resnick had written it all down and sealed that document in an envelope to be mailed to the Penthouse Forum upon his death.
"Liquor?", the stewardess asked.
Liquor? Resnick thought to himself, I hardly knew 'er. He chuckled, then giggled, then doubled over with laughter, hitting his head on the tray in front of him, spilling his ice cubes. He straightened up and cleared his throat. "Another cognac", he snapped, "And, I want ice cubes shaped like Scottish terriers"
"I'll see what I can do, sir", answered the hostess. As she walked away, Mr. Resnick watched the woman's buttocks. What I could do with a butt like that, he thought to himself, licking his dry thin lips; however, nothing came to mind. It was too round to plane a door on and too small to use as a skateboard ramp. His mind drifted to his work. Two victims…one easy…the other…
"Anything can be used as a weapon", the chief monk told Resnick.
"A toothpick?", asked Resnick Tucker Resnick.
"I suppose—"
"A nail file?"
"In some cases, but—"
"A shoelace?"
"Yeah, I guess", stated the monk, "But, the best things to use as weapons are guns, knives or explosives. They are better because they already ARE weapons, so they have a head start"
"But, what if you don't have a gun, knife or explosive?"
"Borrow one from the guy standing next to you", the monk answered.
Resnick had spent ten years learning how to kill with conventional weapons; but, that wasn't enough. He'd spent a year in the slums of Paris learning to kill with golf shirts and citrus zest. Resnick had learned from a tribe in the Amazon how to kill an enemy with an external modem. Ninjas taught him the way of the shuriken and how to get bloodstains out of an underwire brassiere. For eighteen months, he studied under the world's foremost expert in killing with kindness: A Jewish grandmother from Trenton, New Jersey. He was the world's foremost killing machine…
But, even more foremost was Mike Wistersheshenham; in fact, no matter how foremost Resnick got, his old nemesis was foremoster.
"We didn't have Scottish terriers, sir", the stewardess stated, apologetically, "The best we could do was ice cubes in the shape of goats"
"Mountain goats or domestic?", Resnick inquired dryly.
The woman looked into the glass for a moment. "The horns have already melted off, but I think that they were shaped like domestic goats" Resnick took the glass from the air hostess.
"It'll have to do, I suppose", the assassin took a sip of his cognac. "Oh, would it be possible for me to see the cockpit and steer the plane while I sit on the pilot's lap?"
"Usually sir, we reserve that for children only—"
"I am five years old", Resnick responded. The stewardess started to respond, but caught herself.
"I'll see what I can do" Resnick watched the air hostess as she walked to the front of the plane. A butt that won't quit, he thought to himself, but perhaps it could be downsized…or fired outright; but, then it would be eligible for unemployment benefits and my rates would go up. Best just to give the butt a monotonous task, such as archiving or filing accounts receivable and let it quit due to job dissatisfaction.
Resnick tried to imagine what the paper trail would be to fire the buttocks of the stewardess when suddenly his laptop gave off an alarm. The Glove?
"No laptops on the plane", an Asian hostess told him sweetly and walked towards the back of the plane. Resnick watched her, perplexed.
"Don't worry about her", another hostess told him, "That is the only English she knows" The woman looked down at the computer on Resnick's lap. "Oh, you HAVE a laptop computer…what a coincidence!" She followed the first hostess, who was warning others about laptop computers and explained about the communication difficulties of the Asian stewardess. Resnick opened his computer. The screen read:
HMMM HMMM HMMM HMMM HMMM…
Resnick typed, "What's going on?"
SORRY, The Glove responded, I WAS JUST HUMMING TO MYSELF…THERE'S BEEN A CHANGE OF PLANS
"I don't like last minute changes", Resnick typed.
UNAVOIDABLE. IF YOU WERE MORE SPONTANEOUS YOU'D HAVE A LOT MORE FRIENDS
"What are the changes?"
THE GIRL IS NOT TO BE KILLED. SHE IS TO BE TAKEN ALIVE AND DELIVERED TO A FARMHOUSE IN UPSTATE NEW YORK
"I don't kidnap. I'm an assassin", Resnick replied.
THEN, TAKE HER TO THE FARMHOUSE AND KILL HER…ONLY, WHEN YOU GET HER THERE, DON'T KILL HER
"That doesn't make any sense"
I HAVE MY REASONS
"And, what about Mike Wistersheshenham?"
There was a long pause; then, The Glove responded:
KILLIFY HIM WITH EXTREME PREJUDICIALNESS!!!
Resnick closed his laptop just as another air hostess leaned over and said, "No laptop computers on the plane, sir" The woman moved down the aisle and another air hostess leaned in and said,
"Don't mind her, sir"
"Is that the only English that she knows?", Resnick asked.
"No, she speaks English very well; however, she is a pathological liar"
Resnick followed the last airline hostess with his eyes, then he looked down at his dilute mixture of cognac and melted ice-goats. First class travel wasn't what it once was…