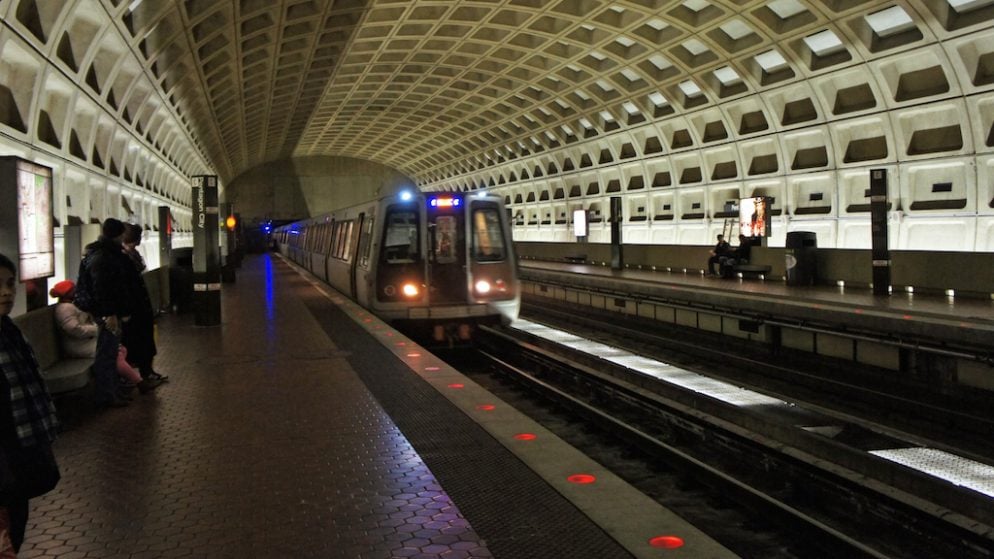 Always let at least half of the people who need to de-train out of the train before pushing your way in like some brain-dead, type-a salmon.
If there is a problem the will delay your commute for an hour or so, the Metro makes announcements which are garbled incomprehensible walls of sound over their PA systems. If you listen closely, you should be able to make out the words "delays" and "thank you for your patience"…
The stuff on the floor of the bus isn't Gatorade. If it's any consolation, it might have been once, though.
On the escalators, keep to your right if you are just standing… and to your left if you are dashing up and bludgeoning those on the right with your backpack or briefcase.
If you are using one of the handicapped seats and someone walks in using a cane, it is customary to look at least a little ashamed.
Eating on the Metro is forbidden and also might disturb the other riders during their breakfasts.
Seeing-eye dogs are NOT toys… unless that is their breed group.
Talking to a bus driver can be very distracting; but, if you don't mind being distracted, go ahead.
If your Metro Card has insufficient funds on it the first time you scan it, that doesn't mean it won't work the sixth time you scan it. Also, swearing helps…
If you find yourself being groped on a crowded train, try to be coy…
When an out-of-towner asks for help with the trains, patiently try to figure out what his destination is and then send him someplace far away from that. If his family is with him, make it someplace far-away AND dangerous.
The driver "appreciates your patience" to the same degree a duck appreciates the works of Euripides.
The doors between the trains should only be used by authorized personal, teenagers, drug dealers, gang-bangers and really old people looking for a bathroom.
If you get on the wrong bus, just ride it around until the driver's shift ends in the hopes that he can give you are ride home.
If you play your favorite tunes, USE HEADPHONES. Crank those headphones up to where that everyone in the train car can hear and enjoy the music you've chosen for them. "I LOVE electronica at six o'clock in the morning", said no commuter ever…
It helps to think of the Washington, DC Metro map as a giant Greek letter chi. The big difference is that chi never spent nine months fixing all the track in its entire line, cutting service back drastically and ONE WEEK after they were done… track problems. Nope. Chi has never done that. No sirree, Bob!